Unblock URL On Facebook: Is your website disabled for sharing links on Facebook? Don\'t worry! This is not so new on Facebook. You can unblock your website on Facebook with some easy tricks. Looking for the proper way to get back your website link-sharing enable? So this article is for you buddy. I write this type article on my site.
In this article, I will assist you about Unblock your blocked website URL on Facebook. Further, the possible reason for blocking URLs on Facebook. Furthermore, how can keep safe your website from getting blocked? In addition, my experience about how I faced this problem and solved the problem. I am sure after reading this article your problem will be solved easily. So continue reading.
Link Sharing On Facebook
Link sharing on Facebook is essential for webmasters. But sometimes Facebook bots detect link sharing as spam. That's why many authentic websites or URLs get blocked. Facebook has strict day by day for improving user experience. So if Facebook bots detect any unnatural link sharing, then they remove the link with spam notification. But the user can submit an appeal that the link is not spam. In this case, detecting many times this type of problem can cause full website link blocks on Facebook.
So, a question in mind that how to keep safe my website from the Facebook block.
It is very easy to keep safe your website from blocking on Facebook. Just avoid spam link sharing. You should follow the Facebook community's standard rules. For knowing the proper use of link sharing on Facebook and keep safe links from getting blocked. Let's know what is the reason for the block and what to do.
Reasons to Block Websites on Facebook
There are several reasons to block any website on Facebook automatically or manually. So if we want to be safe then we need to know the possible reasons why Facebook blocks website links. In this case, many new bloggers do mistakes while sharing links. However, let's figure out some reasons for blocking links on Facebook. You can read about Facebook Community Standards.
Here I am discussing the possible reasons to disable link sharing on FB. Because Different websites may block for different reasons. So read below and think about why your website link is blocked.
Do you want to Use One Word or a Single Name On your Facebook Account?
Link Blocking Reasons on FB
#Reason 1: Sharing Links on Facebook from the same account multi times in a moment is a big and main reason. Newly website owners most of the timeshares their web links everywhere they can share. So without knowing anything they block their website automatically. In this case, people say, little knowledge is dangerous!
#Reason 2: Sharing unwanted links on unrelated places can be another reason for getting blocked. Groups, public pages, in post comments where your link is not reflected, sharing links on there is spam. So It can be a probable reason for your website being blocked on FB. Because most blogger does these mistakes.
#Reason 3: It is possible to be blocked your site if your site has malware. Here malware means, using unwanted or dangerous scripts on your site. Many webmasters use many advertisement codes. By using those ads, your site shows popups, redirects another link auto, etc. By detecting all these types of issues in your site, the FB bot disallows your site from shearing. FB bots keep safe their users from malware or spam-detected sites. So this is can be a reason for your site blocked on Facebook.com.
#Reason 4: Suppose you shared a link on a FB public group. Anyone can feel that your shared link or info is fake, pornographic, dangerous, annoying, sectarian trauma, etc. So it is natural that he/she will report your link to FB. So by this, you can be blocked to share your website links. Even your account might be suspended for sharing links or comments.
In addition, there are many reasons have for links might be blocked on Facebook. But above discussed reasons mostly occurred.
How To Keep Safe Blocking Links on Facebook
It is very important to keep safe your links on Facebook. For this, you should obey the rules of link sharing. However, keep avoiding some things that I already discussed above. In addition, do not use little content or the same keywords/tags many times in your blog post. Recently Facebook crawler scan your site and takes a lot of information to show. In this case, if FB gets any spam activities then automated links on Facebook removes with spam notifications.
Read Also How to Get Out of Facebook Jail in 2023? Avoid FB Account Suspension
How To Unblock URL On Facebook?
So far I have discussed the reason for links being blocked and the wonder of how to avoid it on Facebook. Now I will discuss how to unblock your website's link or URL, which was blocked.
Usually, you need to appeal to unblock the link on Facebook. But Facebook has no official option to unblock links. Although sometimes some links are available to appeal, they have closed again shortly. When a link is detected as spam, it has the option to review it. But after the link is blocked, there are no other options. What to do in this case? There is a word, If it doesn't work straight away, you have to do it another way. So the best and fastest way is to unblock your website by using the Facebook advertising option. In these cases, you have to use 1$ for creating an ad or could be free. For your instance, I include a video about how to create website traffic FB ads.
Before going to use money, try a freeway. The way is to manually contact the FB ads support team. Just follow some small instructions below.
Firstly Login your FB account. Then click on the "Create" Button on the menu bar and select Facebook Ad (Advertise your business, brand, or organization).
After that Facebook Ad Manager will open. Then go to the setting option. Now you can see an option to Report a Problem bottom of the right side. Next, report your problem with suitable words.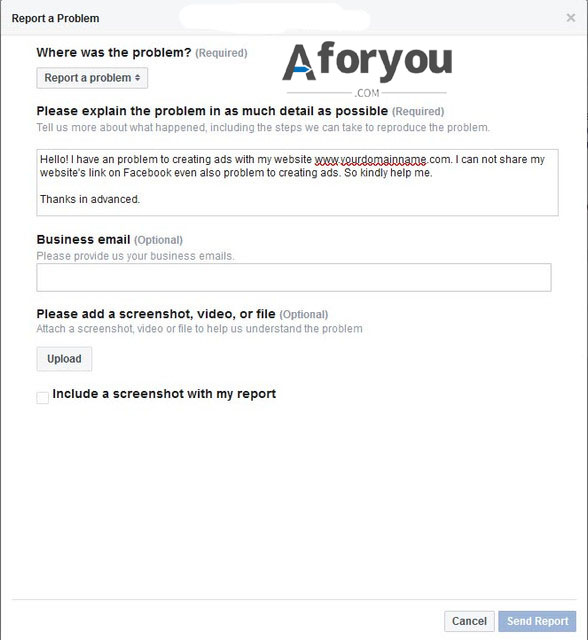 After reporting your problem to Facebook about your website's blocked link for requesting to unblock, any of the team members of support will review your report. I hope your problem will be solved within 24 to 48 Hours. If your site will not unblock for any reason or you will get any negative response from the FB support team, then again report the same way and keep it until solve the problem. In my case, I reported a problem with my blocked site, my problem was solved 24 hours after submitting it.
Conclusion
Finally, I hoped that your problem will be solved. If you have any questions or problems with Unblock URL On Facebook, feel free to tell me. I will try to resolve and answer your question. Thanks for reading my article. If the article is helpful for you, then share it.